Back last year, before the Nintendo got its official name and was still just NX, we found several patents made by Nintendo involving the unit. Many involved designs that were no where near what we got. One noticeable item within these patents that we assumed was scraped was the idea of VR on the Switch.
Up till recently we simply brushed off this idea, but a recent discovery could indicate that Nintendo still has some kind of plan to add VR to the Switch in the future. Cody Brocious, better known as @daeken on twitter, has discovered a bit of code within the Switch OS that involves VR.

This has many people very confused to say the least. It's well known that the screen is only 720p. It's beautiful for normal use and in my opinion has no need to be higher resolution for it's screen size. The resolution would cause issues if the switch tablet were to be used as a VR screen. There would be a serious screen door effect, and without extremely stable framerate the VR would potentially cause motion sickness in users.
This does once again open up the theory of a new type of dock that adds additional computational power, as was believed to be the case with the original dock.
For now though, we can't say for sure what Nintendo has planned for VR, if anything at all.


Author

Write something about yourself. No need to be fancy, just an overview.

Archives

Categories

RSS Feed
Powered by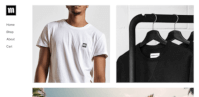 Create your own unique website with customizable templates.